Thank you for visiting the official student-created website of the UC Santa Barbara Associated Students' Commission on Disability Equity (CODE). Double-click the "About Us" tab above (or follow the embedded link) to navigate this website. The flyer below shares some more information about who we are.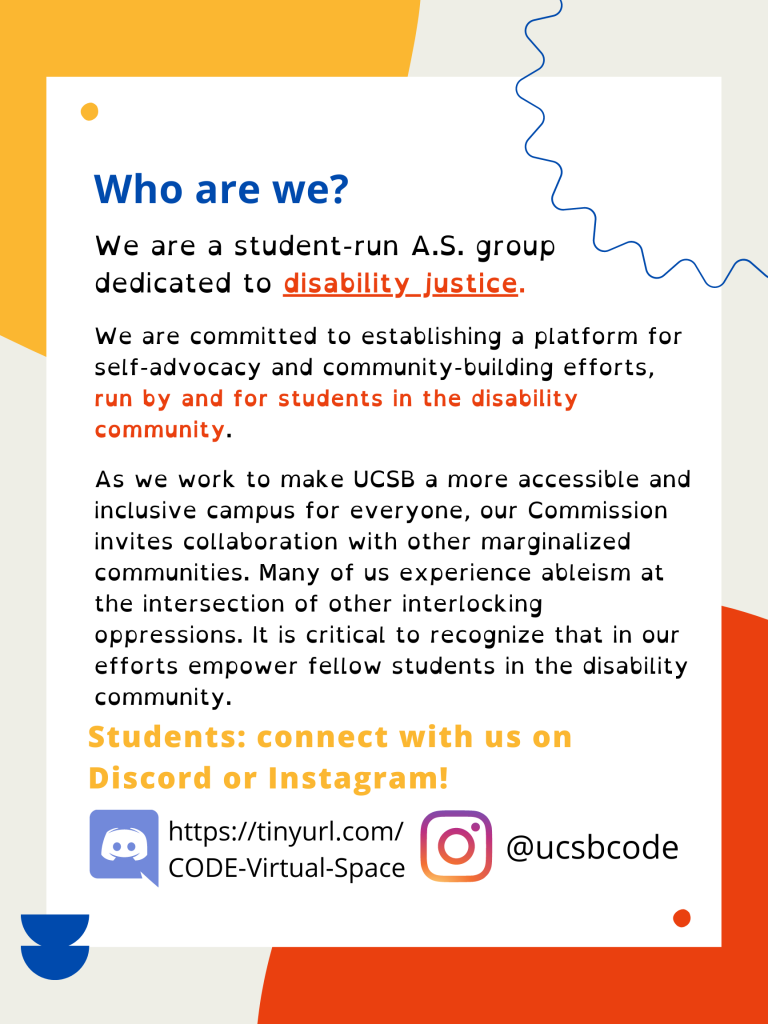 CODE now has a mailing list!
You can request to join our mailing list at this link. We invite any and all people (undergraduate students, graduate students, etc.) who are interested in supporting CODE's efforts to continue establishing an advocacy platform for the disability community at UCSB to join. The mailing list will serve not only as a method of communication between CODE and UCSB students, but also as a forum for disabled students to share campus events, accessibility concerns, and more.
CURRENT RESOURCE: AS Food Bank Grocery/Supply Pickup
The AS Food Bank, located in the UCEN across from Ortega Dining Commons, is currently offering a grocery and supply pickup service for all students due to the COVID-19 Omicron variant outbreak. This service can be utilized once per day. You can find more information on the AS Food Bank Order Form – options are available for students in housing situations without kitchens, students with families, and many more.
Interested in getting involved?
We are looking for general members! General members will be invited to attend meetings and volunteer their labor to CODE projects. More information can be found on our Get Involved! page.
Connect with us!
For a virtual space to meet other students in UCSB's disability community, join our Discord server or our mailing list!
Follow us on Instagram and be sure to check the DSP Events page for updates on on-campus events and opportunities related to disability justice!
Join and view our group's page on UCSB's Shoreline. Make sure to search for Associated Students' CODE and read more about us and any messages for current updates!
Have an issue you would like the Commission to address? Looking to collaborate with our Commission? Contact Us!